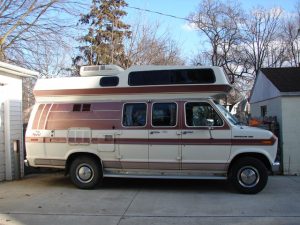 Three days before the end of 2016 I said goodbye to my 19-foot Ford van. I should have gotten rid it ten months before, after our last return from Florida—it was, after all, 25 years old. Instead I let it sit all year in the driveway, an insurance black hole, while I worked up the will to sell it. But not until I got the 2017 bill did I finally let it go.
The Ford RV was the last in a series of vans that began the day I left my second marriage, driving away from Healdsburg, California, in a Plymouth minivan which my soon-to-be-ex husband said looked like a refrigerator. This slight did not bother me a bit (although apparently I never forgot it.). Moved by Joseph Campbell's PBS mythology series, I had decided to become a test case for bliss. The Voyager was just the beginning. The next dream was Lake Michigan.
That took a couple years: The Voyager took me from a Holland town apartment where I could drive to the lake, to a Saugatuck home from which I could walk to the lake, to Beaver Island, where, from my window, I could gaze at the lighthouse on Paradise Bay. The minivan endured many a jouncing ferry trip from Charlevoix. I even drove it 6,000 miles around the U.S. side of the Great Lakes, camping in the back with a mattress, cooler and a one-burner stove. Five months of beaches, campgrounds and treasure hunts—I was dreaming big and writing about it. (The Fourth Coast, Penguin, 1993).
A couple years later, I injured my wrists "screwing on my new bed," the Island story went. I had ordered a bed frame that arrived unassembled—a stack of boards and 54 black screws. A friend with a power screwdriver would have been handy in any of four directions, but independent me had to do it myself with a Phillips. The next morning, I couldn't flip on the light. My right wrist, soon followed by the left, suffered such terrible tendonitis that I strapped each into a black leather bowling brace, took the ferry to Charlevoix and drove to Texas where I lived for two months on South Padre Island in the back of the minivan, mostly curled up in pain. But my legs worked and the beach was soft and warm and I thrilled at the spoonbills, flamingos and shrimping boats.
Back on the island, lacking mainland transportation was becoming awkward, especially when the lake was frozen and Island Air my only escape. I began to look for another vehicle to park "across" (as Island folk call the mainland). One day, shopping at Meijer in Holland, I spied a For Sale sign in the window of a huge gray van. Before you could say "Joseph Campbell!" I had a full-size Ford van parked on the grass at the Charlevoix airport, with a Voyager at home. I enjoyed my two-car life until I finally gave the Plymouth to my son who had been visiting from Laramie. Sadly, having spent too long on unpaved island roads, it died halfway to Wyoming.
Oh well. I'd fallen in love with the big gray van. It had screened windows, wood panelling, fairy lights along the ceiling and really comfortable velvet seats. I often camped on a mattress in its capacious back. One day, after eight years on the island, with the heroic help of an Island friend, I crammed my life into my van and drove it to the ferry dock. Across the lake and across the state we went, to the first floor of a stately town Victorian in Bay City, Michigan,.
I kept the van in Bay City for several years. Finally, tiring of repair bills, I put an ad in the paper and it vanished in a poof. It was the screens, I think, that sold it. I replaced the van with a used silver Subaru Forester. Although it was my first nonvan since California, I became quite devoted to my Subaru. For years it cruised me without incident to Florida for winter visits and, in other seasons, hauled gear and art work to shows all over Michigan. Still. It wasn't a van.
One day I noticed an ad on Craigslist—a small motorhome was for sale within twelve minutes of my house. I was there in ten. The 19-foot van boasted a refrigerator! A propane stove! An actual bed! I could even stand up in it. And it was unbelievably cheap!
A month later, I drove it to Florida, camped at Cedar Key, right on the seashore, and a month after that drove it home without incident. The second year I brought a just-rescued miniature pinscher along, an adventure in itself. We hadn't enjoyed the sight of palm trees long when, on U.S. 10 just west of Tallahassee, the steering wheel froze. Pulling on it hard, I forced the van out of the lane and we limped up an off ramp to a gas station. The hood was stuck and as an attendant and I were trying to get it open, a slim brown spectacled angel appeared in sandals and all white attire and fixed it, true story. On our third Florida trip, the Ford quit again, at almost the same mile marker, and again, we were miraculously rescued.
The stalling persisted. "Just change the thermostat," I told mechanics, year after year, from Michigan to Kentucky, Alabama to Mississippi to Cape Canaveral, but they always insisted the problem was something else—the brakes, or the radiator, or the kingpins. I was hitting the credit card hard.
Still, we kept going to Florida, often leaving in below-zero temperatures. I tried the western route down I 65, the I 75 route through Atlanta and the eastern route through Washington D.C. down I 95. The breakdowns always began as soon as the weather warmed. I learned to not panic, to let the engine cool and start it up again. My rescuers were invariably kind. A secretary at a small industrial plant in Alabama suggested I turn on the heater. It would cool the engine, she said. That got us home.
Not until I finally demanded that the thermostat be changed did I learn that it was stuck, the bolt could not be turned, and no one would touch it. I found someone who would do it for $1,000, an amount I took off the price when I finally sold it to a nice young couple.
Last night I told a friend this story over dinner and confessed that I was already missing my RV. "I can't seem to live without a van," I said.
"That sounds kind of Freudian," she said with a laugh. "Like 'I just can't live without a man!'"
"It's Jungian," I said. "A womb with a view!"
I've been checking Craigslist for a post-2006 Class B+ with a slide. Let me know if you find one.